Our traditional camp facility in Chesterfield County is the perfect place for your camper to create once-in-a-lifetime memories!
What We Offer
EXPLORERS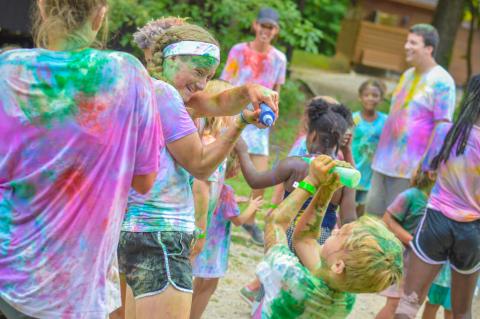 For 3rd - 5th graders (8+ years old)
Our Day Camp program offers a traditional outdoor summer camp day experience!  Our trained and certified staff will work with each child in a small group setting. They will build relationships, foster a sense of belonging and create opportunities for each of our campers to achieve and learn.  We offer a wide range of outdoor specialist activities and focus on character development. Every week has a fun and exciting theme with an educational focus and exciting twist.
EDGE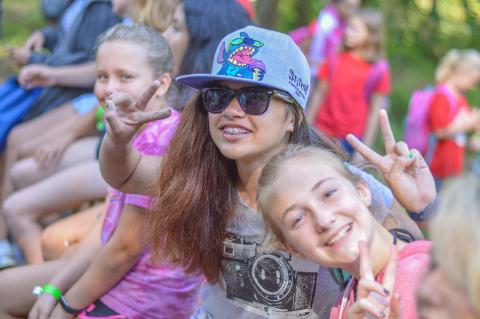 For rising 6th - 8th graders
The Camp Edge program takes the traditional day camp experience and magnifies the opportunities even more!  This year, our teen campers will be participating in all camp activities, as well as having specific leadership curriculum time throughout each week.  Our specialists design activities that are geared for teens! Counselors build a sense of belonging, achievement and relationships in small groups to help campers feel like part of the camp family!
LEADERS IN TRAINING (LITs)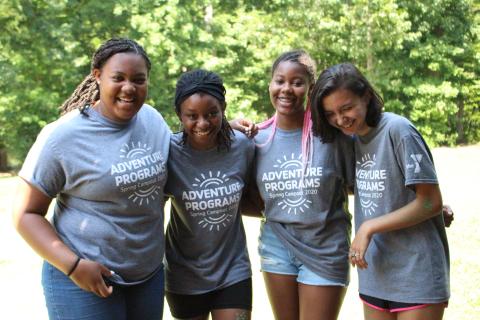 For rising 9th - 10 graders
The Leaders in Leadership Training (LIT) program is a two-week experience at Camp Thunderbird that is designed to teach and inspire rising 9th and 10th graders. This year, we are expanding our program! Campers will participate in small groups and engage in all the activities that Thunderbird has to offer. Curriculum time includes hands-on training experiences and professional development workshops that provide the foundation of the program. Participants will learn basic safety, group facilitation, games, camp best practices and engage in activities that provide valuable employment skills, healthy relationships, and opportunities to lead. Transportation is offered from 6 off-site locations.
EVERYBUDDY CAMP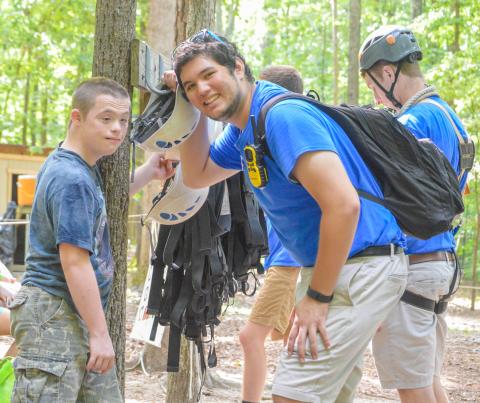 For 8-16 years old
EveryBuddy Unit offers children with diverse abilities a traditional day camp experience while in a breathtaking natural setting. Campers are included within traditional day camp groups and offered a lower staff to child ratio (1:3). The goal is to help campers interact with their peers, learn new skills, and to even prepare them to continue in our traditional day camp program. Staff regularly communicate and provide updates about their camper's progress.For all inquiries for this program, please contact the Thunderbird office. Online registration is not available for EveryBuddy.  For questions or to register, contact the Camp Thunderbird office at:
Email: ctymca@ymcarichmond.org
Phone: 804.748.6714
About Camp Thunderbird
Established in 1966, YMCA Camp Thunderbird boasts breathtaking natural beauty while providing a structured camp environment full of all the amenities a camper could ever want. One hundred acres of pristine woods encompass six-acre Lake George and many camp attractions including swimming pools, rustic cabins, trails and more!
Registration begins January 1 for YMCA Members; January 15 for non-members.
WHAT activites ARE AVAILABLE?
Camp Thunderbird is a place where campers have fun and parents find an environment that will help their children grow in spirit, mind, and body. Our activities are designed to provide campers with an exciting, safe, and enriching summer experience that is appropriate to their age, interests and abilities. DISCOVER YOUR BEST SELF this summer at Camp Thunderbird Day Camp!
Camp Arts: creative arts, camp songs & skits, music, drama and dance
Outdoor Education: outdoor education, hiking, fort building, fishing
Adventure: canoeing, alpine tower, giant swing, dual zip lines, aqua zip line, biking, marksmanship, archery, STEM, low ropes
Character Development: character bead necklaces, reading, devotions, opening/closing council, leadership development
Sports: court sports, volleyball, field sports, swimming
Open Activities: gaga ball, backyard games, themed unit activities, 9 Square, Jewel Pit
MORE!
HEALTH PRECAUTIONS FOR SUMMER CAMP PROGRAMS
Our summer camp programs allow for kids to enjoy themselves in the outdoors and camp facilities, while also adhering to the latest guidelines and recommendations from the CDC and Virginia Department of Health.
For more information about our camp procedures regarding COVID-19, please visit our Parents Guide to Camp page.
We Pick Up & Drop Off FREE of Charge!
YMCA Camp Thunderbird is truly a unique experience and we want to serve as many kids as possible. We provide FREE bus stops throughout the Greater Richmond Community.
2022 Camp Thunderbird Bus Schedule
*Please note: For the weeks of June 6 and June 13, we will only run Chesterfield County bus stops and at the Tuckahoe Family YMCA. For the weeks of August 22 and 29, we will only run Henrico County bus stops and at the Atlee Branch Library sites. 
Atlee Branch Library Bus Stop Info
Bon Air Baptist Church Bus Stop Info
Shady Grove Family YMCA Bus Stop Info
Swift Creek Family YMCA Bus Stop Info
Tuckahoe Family YMCA Bus Stop Info