The YMCA has been a leader in summer camp for over 100 years!  So we know a thing or two about providing a safe and fun environment for kids to enjoy the summer. 
WHAT TO EXPECT
Going off to summer camp is a very exciting experience for campers and parents. It's very natural for everyone to be anxious about the first day of camp and meeting new friends. Hopefully, the following information will familiarize everyone with camp procedures and minimize "first day" anxiety. Our well-trained staff are focused on meeting the needs of individual campers and are committed to serving as excellent role models. 
Suggestions from "experienced" parents
Dress for the weather. CAMP WILL CONTINUE RAIN OR SHINE. 
Campers are very active during camp. Therefore, have your camper wear "play clothes" that can become dirty. 
An inexpensive backpack is useful for campers to keep personal items together. 
There may be more activities at camp than your child can participate in during a one week session. If your camper does not do all the activities he/she wants, encourage him or her to look forward to another session. 
What Campers Need to be Successful
As much as staff teach responsibility and remind campers to take care of their belongings, we do ask that parents/guardians label all belongings with your camper's name on them. This will help us to identify lost items. Here are some items to bring:
What to bring
We suggest packing an inexpensive backpack for campers to keep personal items together.
Extra pair of clothing (is recommended but not always needed)
Peanut/tree nut free lunch
Morning snack
Towel
A reusable water bottle
Recommend two masks (one for backup)
What to wear
Dress for the weather — day camp continues rain or shine
Campers play hard and may get dirty —please choose comfortable appropriate play clothing, free of offensive slogans or symbols. Make sure your child wears sneakers and socks to camp daily.
Closed-toed shoes. For safety reasons, sandals and Crocs are not permitted during activities (Campers may wear sandals to and from water activities only).
Poncho or raincoat in case of rain.
Hats and sunglasses are also suggested but optional.
What Not to Bring
Counselors will give any of the following items to directors if they are brought to camp. These personal belongings will be returned to campers' parents during evening pick-up. Please leave these items at home:
Toys, radios, iPods/mp3 players, electronic games, cellular phones, and other electronics do not fit into this setting.
Firearms, fireworks, knives, matches, lighters, tobacco products and illegal drugs (all over-the-counter medication must be submitted to camp staff with the correct forms).
Expensive items, money and trading cards
If you have signed off that the Y can apply sunscreen, please do not have your camper bring those items with them to camp. Sunscreen is considered medication and needs special authorization (see "Medications/Health center" section).
Lunch
Pack a nutritious lunch for your camper, including a drink. Camp does not have refrigeration for lunches. Please send peanut/tree nut-free products. A lunch box with the camper's name works best for packing lunches and drinks. A (frozen) water bottle is recommended. Please note: Water coolers are located throughout camp. 
Arrival and Departure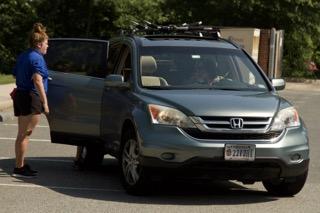 All of our day camp programs at each YMCA location open at 7 a.m. for parent drop-off and close at 6 p.m.
If you are driving your camper to and from camp, our Rides In process  (usually 7 - 8:45 a.m.) makes it easy for parents to sign in their camper and be on their way. There is no need to park or get out of your car unless directed to do so.
Parents who wish to pick up their camper early may do so at the camp designated pickup area. Some camp properties are very large; please send an email in the morning, call ahead or come in at least ONE HOUR prior to pick up so we may arrange to have your camper waiting for you. Otherwise, please be prepared to wait at least 20 – 30 minutes to gather your camper and their belongings for departure.
During Rides Out or early pickup (typically 4:30 - 6 p.m.), only adults listed on the approved pick up list for your camper and present correct identification may be allowed to sign out a camper from a bus stop or on campus.
YMCA Transportation
Whenever the Y transports children, the Y takes every precaution to ensure your child's safety. Children must follow the below Y basic safety rules while being transported. Our Y drivers are instructed to: load and unload children only when the vehicle is pulled up to a curb, the side of the road or in a driveway; to not discipline and drive at the same time; and take precautions to never leave a child alone in a vehicle.
In order to reduce paperwork and waste, the electronically signed Youth Enrichment Program registration authorizes the Y to take your child on all field trips for the school year and summer, with notice. You have the right to refuse permission for your child to go on a particular field trip. Just let us know in a timely fashion.
GENERAL DAY CAMP SCHEDULE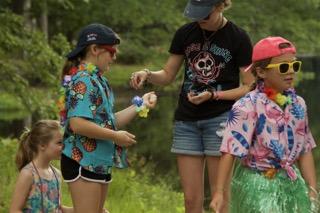 Each camp in the YMCA of Greater Richmond develops its own specific schedule based upon the facility, activities and number of campers. Times may vary. Here is a general outline of what a schedule looks like: 
7 - 8:45 a.m. Rides In/Drop-Off, Group games, meet counselor and get into huddles
8:45 - 9 a.m. Transition to Opening Council
9 - 9:30 a.m. Opening Council
9:30 - 10 a.m. Snack, Huddle time, general camp activities
10 a.m. - 1 p.m. General camp activities, Lunch sessions, Swim time
1 - 4 p.m. General camp activities, Swim time
4 - 4:30 p.m. Closing Council 
4:30 - 6 p.m. Rides Out/Pick-Up
STAFF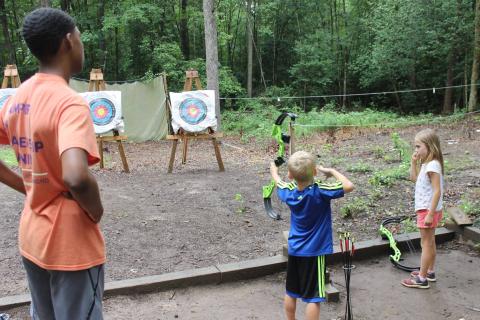 A camp is only as good as its staff. 
Expect excellence at YMCA Day Camps. Our well-trained counselors mentor and care for your child. Counselors, staff and lifeguards are required to complete a minimum of 35 hours of pre-camp training including, but not limited to, youth and adult CPR, first aid, AED, child abuse prevention and daily health observation. We conduct background checks and drug screenings on all camp counselors and employees as mandated by state licensing. We train our counselors and staff in conflict resolution techniques and encourage campers to be inclusive of all and celebrate our differences. 
Staff to Camper Ratios
We maintain a direct staff to child ratio that meets or exceeds licensing standards, currently with a staff to camper ratio of 1:13 with groups no larger than 18. 
SWIM ASSESSMENT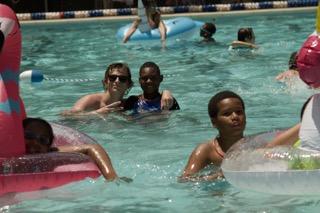 Before swimming at camp, all campers are given a swim assessment in the pool under the direct supervision of certified lifeguards and receives a swim band on the first day of camp that they wear as a necklace at the pool. This is a safety procedure that helps staff distinguish between swimmers and non-swimmers. Please make sure that your child wears their swim band to camp every day. 
Check out this short video describing what the swim assessment looks like. This video is for when parents bring their children to the pool, but the process will be the same with counselors and campers.
Medications/Health Center
Medical Records
To ensure good health and ability to enter into normal camp activities, please ensure that all documents have been turned into the main office. If your camper requires medication during the day, please ensure that the following guidelines are met:
If a child requires medication while at the program:
 An "authorization to give medication" form must be completed by the parent/guardian.
 Medicines must be in original containers, with the child's name on it.
 In case of food allergies, an Allergy Action Plan, signed by a physician, must be submitted to the camp office.
We have medication administration-trained staff onsite to administer medication based on licensing standards. All medication will be kept in a locked box. Only those Youth Enrichment staff who are certified "Medication Administrators" may dispense medications. Please consult the on-site supervisor prior to leaving any medication at the site in order to ensure all Department of Social Services paperwork requirements are met.
Sunscreen
To help prevent sunburn, it is required that parents apply sunscreen prior to arriving at camp. In addition, all YMCA camps will supply campers with sunscreen and bug spray (see parent guide and/or handbook). Staff will aid children in applying sunscreen after water activities and as needed throughout the day.
Y staff will administer personal sunscreen, and/or insect repellent provided:
We receive written parental/guardian authorization noting any adverse reactions.
Products are in their original containers labeled with your child's name.
Heat Advisory
During extreme heat/heat advisory days, we will adjust our schedule when possible. The safety and comfort of our campers is always our top priority and we want you to be aware of the changes we will make to our camp schedule:
We will limit the time spent in direct sun.
We will spend more outside time in shady places.
We will take more breaks that usual to "chill out."
We'll play games that keep kids hydrated and cool (like water fun).
We will move activities inside when possible.
We will take extra water breaks and make sure water is always available.
Here are some tips to help your kids stay comfy cool during summer fun:
Pack a frozen water bottle.
Dress campers in lightweight and light-colored clothing.
Store lunch in an insulated, chilled lunch box.
Send your child with a hat.
Apply sunscreen before camp.
Tell your camp staff if your child has a health condition that makes them more sensitive to the heat.
Eligibility Criteria
At camp, we consider the needs of each camper to promote success and provide a positive camp experience. Let us know when you register if your child has a developmental, emotional or physical disability or requires another type of assistance. Our staff can help you determine activities and camp experiences appropriate for your camper. YMCA camp allows campers 17 years and younger to participate. Refer to program registration for permissible ages for each respective camp. 
Camper Behavior Requirements
Children are expected to display appropriate behavior at all times. To assure the maximum enjoyment of the program by all participants, please review the following guidelines with your child.
Campers will:
Exhibit individual and group behavior that models our Core Values of Caring, Honesty, Respect and Responsibility and that doesn't disrupt the flow of teaching and learning.
Stay with the group.
Be pleasant to others and refrain from using foul language.
Refrain from putting themselves and others in danger.
Use equipment, supplies and facilities as instructed.
Have the ability to follow verbal and/or visual direction
Always wear shoes and clothes that conform with the Parent Handbook.
Personal Needs
Is able to manage all personal hygiene
Motor Needs
Is able to ambulate on own or with a mechanical device in varied terrains, including sloped and uneven ground
Is able to perform gross motor functions and fine motor functions with reasonable guidance
Additional Requirements for Programs with Outdoor Activities
Is able to withstand exposure to the outdoors for extended periods of time
Is able to get in and out of a kayak and/or canoe
Is able to maintain a balanced, upright position when seated in a kayak, canoe and/or bicycle
Is willing to wear all safety equipment correctly such as, but not limited to, protective helmets and life jacket
Other requirements may apply for unique features at some of our camps, like challenge courses.
Child Abuse Parent Education Guide
At the Y, we ask our parents and guardians to be our partners in child abuse prevention. This Parent Education Guide seeks to equip you to be informed about child abuse and to protect your child from abuse.