History of the Northside Family YMCA
Upon encouragement from William Hunton (the son of a slave and a vocal promoter of the YMCA in Norfolk, VA), the first Richmond Colored Young Men's Christian Association held their first meeting on November 11, 1887 at Ebenezer Baptist Church, which still stands at 216 W. Leigh Street in Richmond, VA.  The street served as home to this Y for the next 80 years.
Rev. John Milton Waldron, this Y's first executive director, and other leaders raised enough money for a down payment on a structure at the corner of Third and Leigh in 1889, purchased at $6,000 for the lot and building.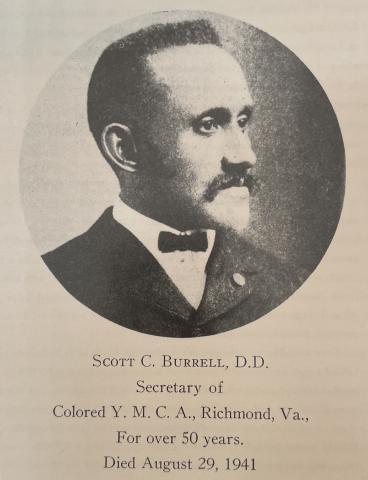 In 1894, Rev. Scott C. Burrell was hired as the first full-time chief executive, whose YMCA career lasted until 1940, remaining the longest tenure in the city's history.  Burrell was a well-known, much-loved and influential man in the African-American community.  He graduated from Virginia Union University and taught in Toano, Virginia before joining the Y here.  Burrell often said "If you get the boy straight, you will have the man straight."  He conducted four boys' classes every week, instilling manners, public speaking skills and religious values.
Even with Burrell's enthusiastic leadership, his Y rarely had many resources.  It lacked a gym and dormitory, standard features at well-financed YMCAs in the late nineteenth and early twentieth centuries.  However, despite the lack of money, the Leigh Street establishment was in much better shape than most black YMCAs in the period.  It owned a building and had a full-time executive, which was not the case elsewhere until early in the twentieth century.
A nationwide YMCA building boom in black urban communities began about 1907.  This started with philanthropists George Foster Peabody and John D. Rockefeller donated money for "Negro" Ys in Columbus, Georgia and Washington, D.C.  Julius Rosenwald, president of Sears, Roebuck and Company, started giving money for similar construction projects in 1910.  He provided $25,000 to any black Y that raised $75,000.  He ultimately gave $612,000 to communities that raised $4.4 million.  By 1933, "Rosenwald" buildings stood in 25 communities, which provided the same benefits to members and travelers that white Ys did.
The early 1900s also saw the rise of a professional group of African-American executives who ran these YMCAs.  These men held positions of authority and respect in their neighborhoods.  They also became a forceful voice within the association for racial equality and integration of the Y and American society.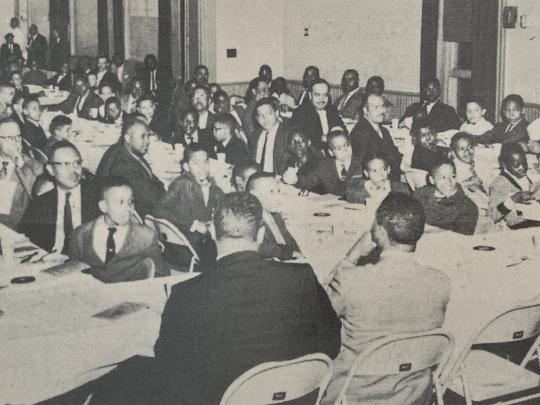 Although Richmond Ys remained segregated in the early 1950s, the first formal step in bridging the racial divided occurred in 1955.  The Leigh Street Y joined with other branches in the new YMCA of Metropolitan Richmond organization.  As the new metro board formed in Richmond, larger forces were working to change American society regarding segregation.  The national civil rights movement gained momentum in the late 1950s and early 1960s.  Within African-American neighborhoods, YMCAs often because organizational centers for the moment's leaders and followers in these years.  These Ys often offered a safe haven, too, for civil rights advocates needing a place to relax. For example, both Dr. Martin Luther King and Rev. Andrew Young would unwind with their families at their local YMCAs when taking a break from movement business.
On March 18, 1965, the Central Board agreed unanimously that it would "accept all qualified applicants to membership without regard to race, color or creed."  This decision preceded by two years the national association's decision to end segregation of YMCA facilities.
The Leigh Street Y remained an influence. However, the original building was well worn by the 1940s.  The association moved to a rented quarters at 212 E. Leigh Street in 1949, and the original structure was demolished in 1953.  By the late 1960s, the second location was also wearing out and moved to 127 W. Brookland Park Boulevard. 
In November 1972, the YMCA purchased a two-acre site from the Richmond Redevelopment and Housing Authority for $32,500.  Construction began in 1973 and the following year, the new "North Richmond Branch" was opened at its current location of 4207 Old Brook Road.
Just as Rev. Burrell did a century ago on Leigh Street, the Northside family YMCA today offers a magnet for people, a beacon of hope and a special experience for everyone who enters its doors.
The text was taken from the book "The Richmond YMCA: 150 Years of Innovation and Service for Central Virginia" by Edward R. Crews.