The Y can help you find your fit working one-on-one with a personal trainer. Get the results you want with the attention you need.
Jump Start Offer currently available for members new to personal training for three sessions for $99. Fill out form below for more information.
TRY IT
(1-Month Only)
A one-month subscription plan can get you started on your road to finding your fit. Minimum of 3 sessions per month.
CHANGE IT
(3-Month subscription)
A three-month subscription plan can help you start to truly see changes that can last with consistent efforts.
LIVE IT
(6-Month subscription)
A six-month subscription plan gives the time needed to make lasting lifestyle changes to not only find what works, but start to live it as well.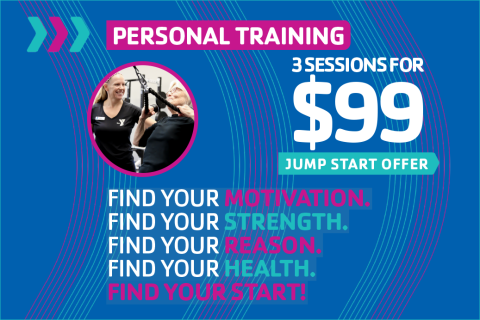 See Tineka's Personal Training Story
Tineka returned from serving in the Peace Corps, looking to get herself healthier. After gaining some extra weight, she found she needed something more personal to motivate herself. Personal Training worked for Tineka.
Watch her story.